What determines share price?
A stock's price will be determined by supply and demand in the market. We work on a bid and ask system, and there is no assurance as to the development or liquidity of any trading market. News about Fantex, Inc., the athlete, as well as any number of external factors may have an effect on stock price. Ultimately it's up to the market to decide what's meaningful.
What is Fantex, Inc. platform common stock?
Platform common stock is intended to track and reflect the economic performance of all of our tracking series brands. 5% of acquired brand income received by Fantex, Inc. from each brand on the platform will be attributed to the platform common stock.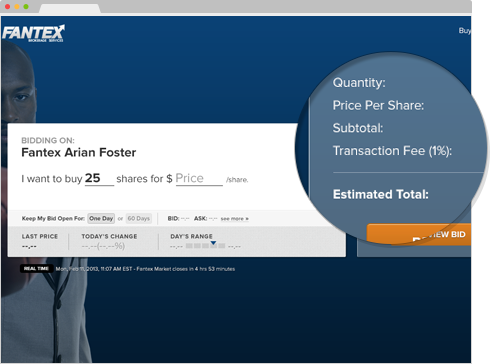 What if the brand stops generating income?
The tracking stock may be converted into Fantex, Inc. Platform common stock based on relative fair market value of the stock. If the tracking stock is converted, then you should not expect many shares of Platform common stock upon conversion. For a detailed description of how a brand is valued, see the prospectus.
How often would I get updates?
Fantex, Inc. will file annual, quarterly and periodic reports with the SEC, detailing financial results and providing other pertinent information about the company and its tracking stock.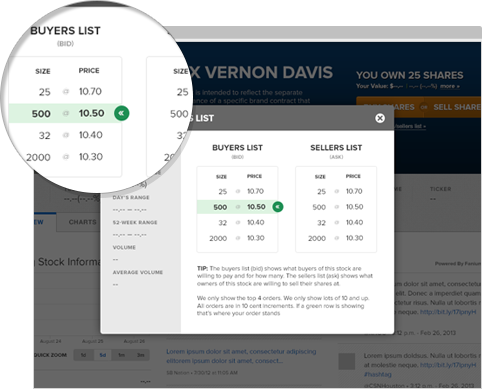 What is the transaction fee to buy or sell?
Excluding IPO purchases, the standard transaction fee is 1% of the total amount of your trade. So, for example, if you invest $100 in a stock, you would pay a $1 transaction fee.
What about dividends?
The Fantex, Inc. board of directors is permitted, but not required, to declare and pay dividends on a Fantex tracking stock in accordance with Delaware General Corporate Law.
What is Fantex, Inc. tracking stock?
To finance the acquisition of the contracts, Fantex, Inc. will offer equity securities in Fantex, Inc. and establish a tracking stock linked to the separate economic performance and value of the brand associated with the tracking stock – which may include income earned from contracts, endorsements and appearance fees as determined by the brand contract.

Fantex, Inc. will typically attribute 95% of the acquired brand income under the brand contract to the tracking stock. In addition, Fantex, Inc. will attribute to the brand certain expenses of Fantex, Inc. including, in certain cases, specified expenses related to other tracking stocks that may be issued in the future. Holders of shares of a tracking stock will have no direct investment in the business or assets attributed to the brand contract, associated brand or athlete. Rather an investment in a tracking stock will represent an ownership interest in Fantex, Inc. as a whole.